So, I spent a week at summer camp. This was the second year I've gone
without my son (who's no longer a Boy Scout). This might sound like I'd have an easier time but there's the same amount of paperwork, travel preparation and organizing no matter who is there. Having fewer troop members may be a little easier, mainly on the lower number of interpersonal conflicts that could arise. This year we had 3 Scouts who are 17, meaning this will be their last camp as youth. Each of them have few merit badges left to complete before qualifying for Eagle Scout.
Scout camps usually have group goals in additions to individual goals of advancements, merit badges, certifications. During years when we have troop members that rush through (or skip) merit badge classes, we'll encourage them to work on group projects, rather than sit around chatting or complaining. They can do that at home and don't need me to hear and see it. But this year the group was rather small and the group goals were going to be difficult due to the range of ages and activities all were doing (the camp calls this ages and stages).
Ockanickon offers clean camp award, patrol and troop recognition for completion of tasks lists. We kept a clean camp as a result of
our Leave No Trace awareness
level and earned that award with little extra effort.
The camp ran a one hour introduction to Leave No Trace on Tuesday night; we didn't know it was geared for adults and brought a couple troop members with us. They reviewed the seven principles. While I struggled to follow some of the logic that was offered behind the principles, I thought the example that the youth leader gave about burying a chocolate bar beneath a fire to demonstrate how not to impact the ground was one with easy to verify results.
The next day, our Senior Patrol Leader, with my encouragement, asked for a camp improvement project for our troop, and we were given the task of dispersing ashes from a large fire pit. The first picture shows what it looked like before we started.
It may be hard to tell from this angle, but ashes were about 1 foot deep, in a circle over 6 feet in diameter. We gathered a pick mattock, shovels (properly called spoons for this work), rakes and gloves from our stock and from the camp quartermaster.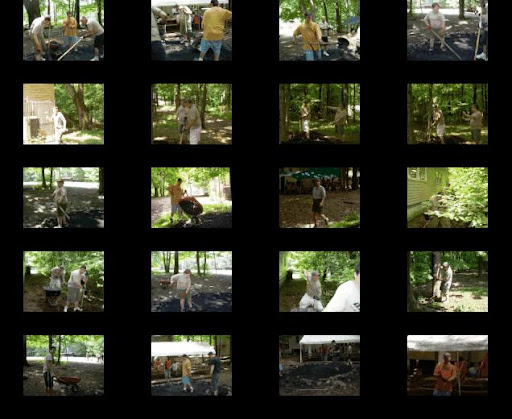 The second photo is a montage showing our scouts and Scoutmaster at work, as well as the area director stopping by for inspection.
The third photo shows the finished product, with stones restored to more of a barrier, a lowered ash level, and our trademark troop number. I would have liked to shrink the circle farther to encourage smaller fires, but our Senior Patrol Leader decided we would leave it as it was. The camp can fairly easily move the rocks closer together in the future.
The fourth photo shows a mushroom growing in the firepit at our camp site. We shared a site with a larger troop, who built a campfire on several nights, but we did not have one all week. A couple nights we lit 2 citronella candles, which made a nice glow beneath our large canopy. Otherwise, there wasn't a need for fire: it rained a few nights; it was summertime so it was hot; and, we were just too busy doing things to sit around.
I shot this next photo through the floorboards of my tent platform, and did a
short photo blog
when I spotted it. You can also see parts of a hanger, and possibly a carabiner, all of which I pulled out from under with help from a couple spotters and a rake.
The last photo is a battery I found at the "card players" table outside the camp trading post.
Finally, a 15 second video clip called:
Peanut Butter and Banana
(note the young Scout wearing a Leave No Trace T shirt!)
Support LNT by joining
here
or visiting a sponsor
Spadout.com